The comprehensive complementary programme of events rounds off your visit to Guangzhou International Lighting Exhibition. The top themes and events give you a concentrated overview of the latest trends and developments in your sector.

THINKLIGHT: Embracing Changes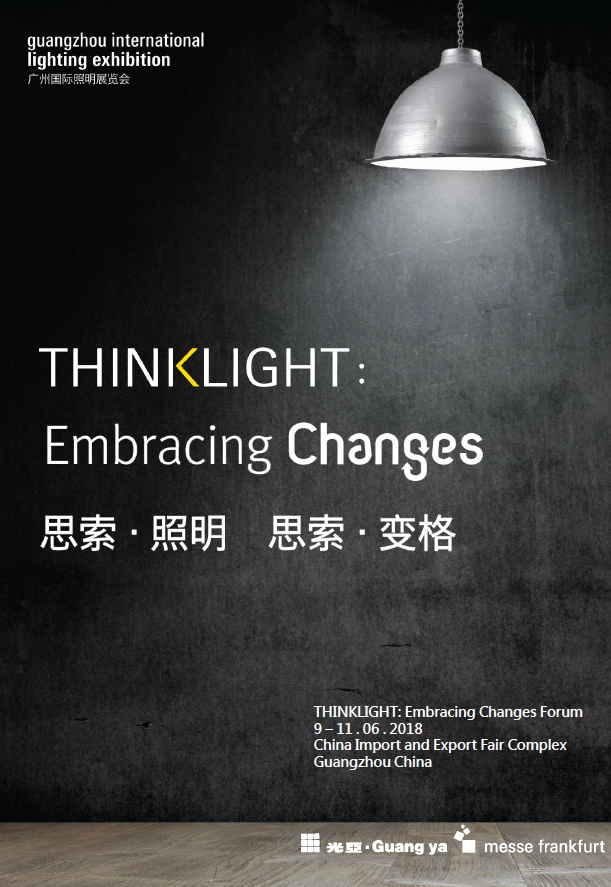 The "THINKLIGHT" show concept will return to the 2018 show under the theme of "Embracing Changes".
As the lighting industry continues to undergo its digital revolution, thoughts are now turning to how lighting can expand its scope by becoming a fully connected and 'smart' device.
Digitial lighting has well and truly arrived. The question we as an industry face is how do we tackle these changes and continue to shine?
GILE has always aimed to serve as a platform that gathers the lighting community together. We encourage people to recognise the potential of light and to explore lighting that is sustainable and that contributes positively to our well-being.
As thoughts turn to how lighting can expand its scope by becoming fully connected and a "smart device", the concept of human centric lighting and its myriad benefits is also earning greater recognition.GILE will continue to serve as a platform that gathers the best and the brightest from the lighting community in one place to explore new ways of tackling changes in the industry.
Explore new business opportunities and join us today.
"THINK" and "ACT" at the THINKLIGHT: Embracing Changes forum
To echo with the show theme, the THINKLIGHT: Embracing Changes forum will be held alongside the exhibition. The three-day event programme is structured according to four major changes witnessed in the industry while being split into two distinct sections, the THINK and ACT forums.
The THINK forum will examine the changes from both conceptual and strategical points of view, while the ACT forum will focus on practical topics that can tackle these changes in the industry and present a range of real-life case studies. 

2018 Event highlights